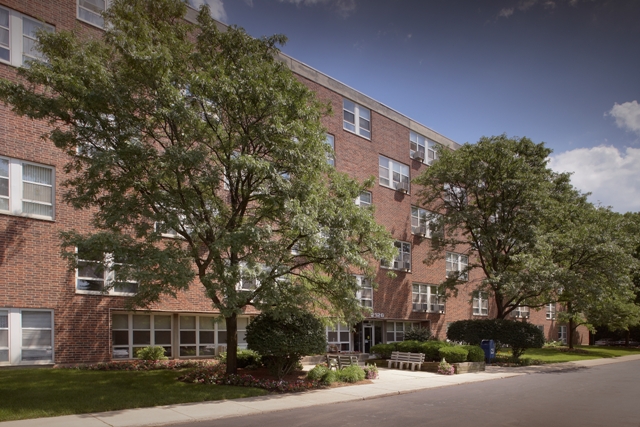 Marian Park, located in Wheaton, Illinois, offers apartments for income eligible families and persons ages 62 years and older. (Mercy Housing)
In 1879, three Franciscan sisters began caring for the sick in a house in Milwaukee. Over the next 136 years, that work would grow into a network of hospitals and clinics across Wisconsin, Illinois and Iowa.
Likewise, around 1970, the sisters — by then known as the Wheaton Franciscans — had an orphanage in Denver that was no longer needed and learned of a federal program to help build and sponsor affordable housing for low-income seniors. Over the next decades, that effort would grow into 33 properties offering affordable housing.
But while the numbers of people they served continued to grow, the number of Wheaton Franciscans shrank, and the long-term future of their ministries was in doubt.
"We're a fairly small community, with about 45 vowed members, and we're getting older," said Sr. Pat Norton, former chair of the sponsor member board for Wheaton Franciscan Healthcare. "We felt it was time to let go of our corporate ministries and refocus ourselves. We're always asking, 'What's ours to do? What should we be about?' "
But the sisters didn't want to just sell their ministries to the highest bidder. They wanted them to go to an organization with missions so similar, it would feel more like a partnership, Norton said.
For their affordable housing ministry, they found Mercy Housing, begun by the Sisters of Mercy in Omaha, Nebraska. Their ministry's goal is not to provide affordable housing, but to help people stabilize their lives and improve their health and education with affordable housing as the vehicle.
"Mercy Housing was really the one that stood out," Norton said. "We had worked with them before and were familiar with their work, particularly in Chicago. We knew that if they were willing, they were the group we wanted to partner with."
Mercy Housing officials welcomed the chance to expand their mission.
"Our mission was never to amass a pile of real estate. It is really about creating healthy communities," said Michele Mamet, chief administrative officer of Mercy Housing. "If you look at just the real estate, it isn't enough."
And so over the last year, 31 Franciscan properties have been transferred to Mercy Housing; the last two properties are expected to transfer by the end of the year.
To make the transition easier, there were two "town hall" meetings at each property, for employees, residents and current staff. Initially, residents were filled with questions. They worried their rent would change or the employees they knew and loved would go away.
"For employees, it was to keep on doing what we're doing, and let's see how we can make it even better," Mamet said. "I think the residents took great comfort that all the sisters shared those core values in social justice."
Melissa Clayton, senior vice president of portfolio management for Mercy Housing, agreed that the Franciscan properties and Mercy Housing were a perfect fit.
"We had the same mission, so we were a natural partner," Clayton said. "They knew we'd uphold all their values and their mission. ... The properties are very similar to what we already have, so it's really nothing different for us."
It helped that the Wheaton Franciscans worked with Mercy Housing in the past and with the Mercy sisters' health care ministry, as well: In 2015, the Franciscans' hospitals in Iowa became part of the Mercy Health Network.
The Sisters of Mercy began their health care ministry in Iowa in 1869 said Colleen Walters, vice president and chief mission integration officer with Mercy Health Network. Over the decades, their ministry became an amalgamation of health ministries begun by various congregations of women religious, now known as Mercy Health Network.*
With the addition of the Wheaton Franciscans' hospitals, Mercy Health Network now includes eight medical centers and seven community hospitals for a total of 3,200 hospital beds.
The Franciscans' Wisconsin hospitals went to Ascension Health, sponsored by the Daughters of Charity, Province of St. Louise; the Congregation of St. Joseph; the Sisters of St. Joseph of Carondelet; the Alexian Brothers; and the Sisters of the Sorrowful Mother.
But in Illinois, the Franciscans couldn't find a Catholic health care sponsor for their rehab hospital. They did, however, find Northwestern Medicine, which was looking for a rehab focus in the western Chicago suburbs, Norton said, and even though Northwestern Medicine is not Catholic (it is affiliated with Northwestern University), the values matched well.
Though it seems everything worked out well, the decisions were not easy.
"However, the overarching response from our women was, 'What is best for the ministry? What will be the best way for this ministry to carry on to serve the people we want to serve?' " Norton said. "Once they got to that place within themselves, they felt their own needs were trumped by the needs of the people served."
And the Franciscans' ministries have not completely gone away: The Marianjoy Rehabilitation Hospital is right on the campus of the motherhouse, as is some of the affordable housing they used to run.
"It's not like we can let go of them entirely because they're neighbors of ours. We live among them," Norton said. "We've transferred the management and sponsorship, but we're still part of one another's lives. It's a pretty well integrated community."
*An earlier version of this story gave incorrect background for Mercy Health Network.
[Dan Stockman is national correspondent for Global Sisters Report. His email address is dstockman@ncronline.org. Follow him on Twitter or on Facebook.]