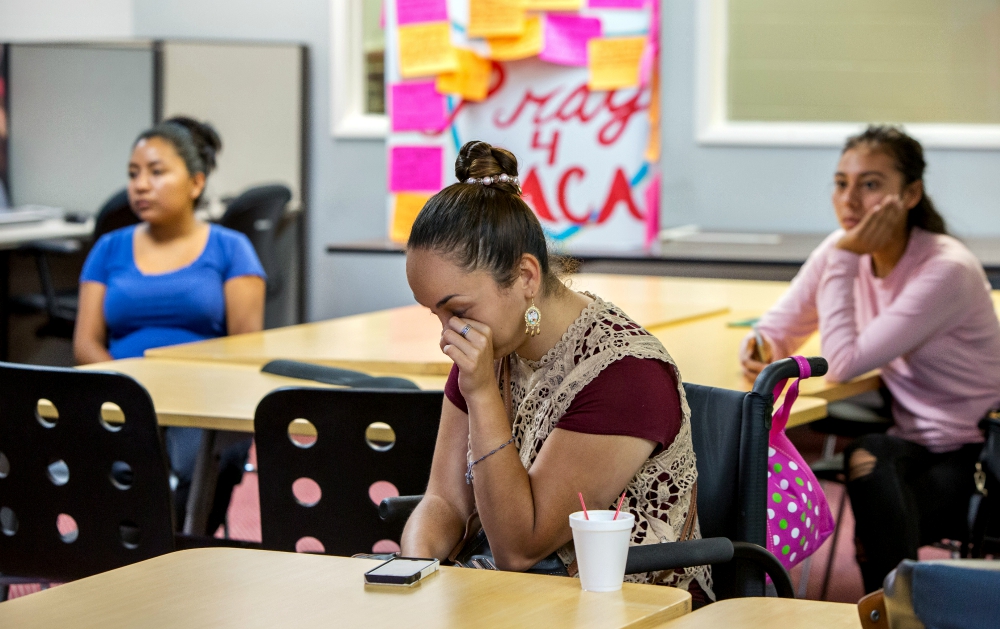 At the Coalition for Humane Immigrant Rights headquarters in Los Angeles, Paulina, 26, reacts to Attorney General Jeff Sessions' Sept. 5 announcement that the Deferred Action for Childhood Arrivals program is "being rescinded" by President Donald Trump. Paulina, a DACA recipient and graduate of UCLA, arrived in the U.S. when she was 6 years old. (Newscom / Reuters / Monica Almeida)
The Trump administration announced Tuesday, Sept. 5, that it will end the program that shields from deportation those who were brought to the United States as children. The decision was made despite calls from faith leaders and the business community and despite pressure from within Donald Trump's own White House to keep the policy.
The Deferred Action for Childhood Arrivals policy, known as DACA, protects from deportation up to 800,000 people under the age of 35 who were brought to the United States as children. Begun five years ago under President Barack Obama, the administrative program allows those with DACA status to legally work in the United States.
The Trump administration's announcement met swift condemnation from all areas of the Catholic church.
U.S. Conference of Catholic Bishops in a written statement called the decision "reprehensible."
"These youth entered the U.S. as minors and often know America as their only home," the statement said. "Now, after months of anxiety and fear about their futures, these brave young people face deportation. This decision is unacceptable and does not reflect who we are as Americans."
The Leadership Conference of Women Religious, which represents about 80 percent of the Catholic sisters in the United States, called the move "unconscionable."
"DACA is a common sense path to stability for families, communities, and local economies and a reaffirmation of American values," the group said in a statement. "Ending DACA will cause irreparable harm to families and communities and force 800,000 of our young people back into the shadows."
The Sisters of Mercy, who have had sisters and team members at a 22-day vigil outside the White House in support of DACA, issued a statement calling the decision a "historic injustice."
"Although President Trump had repeatedly pledged to treat DACA recipients 'with heart,' his decision to wind down DACA is deeply troubling. We agree that Congress needs to pass just immigration policy reform, but this action by the Administration abdicates its responsibility and promise to DACA recipients, and undermines our nation's professed values of fairness, welcome and compassion," the statement said.
"We will not stand by as DACA recipients and their families, as well as other undocumented immigrants and vulnerable groups, are scapegoated and blamed for the economic and social problems facing this country."
Under the plan announced Tuesday, DACA recipients whose status expires before March 5, 2018, will be able to apply for a two-year extension, as long as they apply by Oct. 5. No new applications will be accepted; unless Congress acts, the program will be phased out starting March 5.
Administration officials have said the policy is unconstitutional, and Trump called on Congress to pass a legislative fix. Immigration advocates have been calling for just such a fix, but because they want the program to be permanent rather than subject to the views of the president.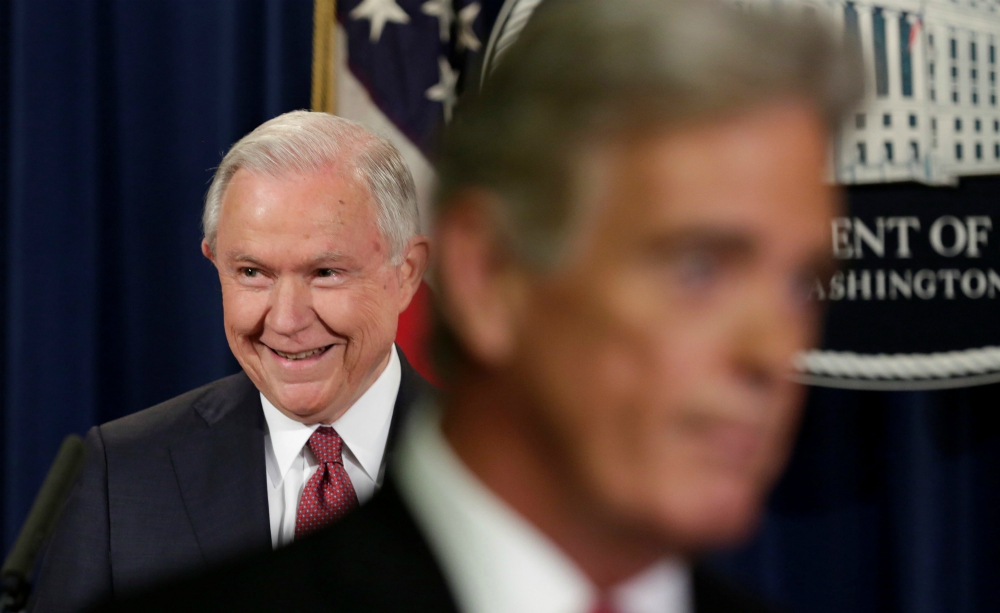 Attorney General Jeff Sessions arrives to a Deferred Action for Childhood Arrivals news conference in Washington Sept. 5. He announced that the DACA program is "being rescinded" by President Donald Trump. (CNS / Reuters / Yuri Gripas)
Advocates also point out that the Dream Act has been introduced every year since 2010 but failed to pass; this year's version was introduced July 20 by Sens. Lindsey Graham (R-South Carolina), Dick Durbin (D-Illinois), Jeff Flake (R-Arizona) and Chuck Schumer (D-New York). Congress' inability to pass the DREAM Act led to Obama's creation of DACA and recipients of DACA status are often called "Dreamers."
Social Service Sr. Simone Campbell, executive of Network Lobby for Catholic Social Justice, told Global Sisters Report that since the Senate has been unable to pass major legislation near and dear to the Republican majority, it is uncertain how it will be able to pass a bipartisan bill such as the Dream Act.
"The real issue is, will they be willing to work for the needs of all our people? And so far they haven't been," Campbell said.
NETWORK is urging people to call their representatives and senators to support the Dream Act.
José Cabrera, a senior at Xavier University in Cincinnati and a DACA recipient, told Global Sisters Report he was focused not on the decision — which he expected — but on making sure Congress passes the Dream Act. He was busy Tuesday organizing a rally outside the Cincinnati office of Ohio Republican Sen. Rob Portman, urging him to vote for the Dream Act.
"It's something we knew was coming, so we've been preparing strategically," Cabrera said. "I was shocked by some of the things they said, but we knew it was coming. Now we're ready to start pressuring Congress."
Jeanne Atkinson, executive director of the Catholic Legal Immigration Network, used her written statement to call the decision "cruel."
"Today's unconscionable act by the administration undermines the rule of law in this country. By pointing fingers and insisting that the Obama administration subverted congressional authority by implementing DACA, [U.S. Attorney General Jeff] Sessions speculated as to how the courts would rule on DACA, concluding that there was no need for the judiciary to have a role in this issue," Atkinson wrote. "We reject and adamantly disagree with Sessions' untested personal opinion that DACA is unconstitutional."
Cardinal Joseph Tobin of Newark, New Jersey, called the decision "malicious" and said the legality of DACA is immaterial.
"It is plainly and clearly wrong for this Administration to use as a political tool the lives, futures and security of some 800,000 young people whose only crime, if you ever could call it that, was that they lovingly and obediently accompanied their parents in pursuit of the dream of freedom and opportunity," Tobin said in a statement.
"Whether or not the previous administration had authority to institute DACA does not matter. The 800,000 Dreamers affected by the rescission are people. They live in our neighborhoods, attend our schools, fight for our country, and contribute actively in our workplaces. They are contributing to this nation's future and prosperity," he said.
"One can't hide behind the term 'legality' in rescinding DACA. That is an abandonment of humanity, and abandonment of talented and hopeful young people who are as American as you and I."
Chicago Cardinal Blase Cupich said Trump's move was heartless.
"The Dreamers are now left in a six-month limbo, during which Congress is supposed to pass comprehensive immigration reform, a feat they have been unable to achieve for a decade," Cupich said in a written statement.
Congress, he said, "must be guided by compassion and respect for human dignity, and honestly consider the substantial evidence that deporting these young Americans would do great economic harm to the states where they reside."
San Diego Bishop Robert McElroy said the Trump administration may have turned its back on undocumented immigrants, but the church will not.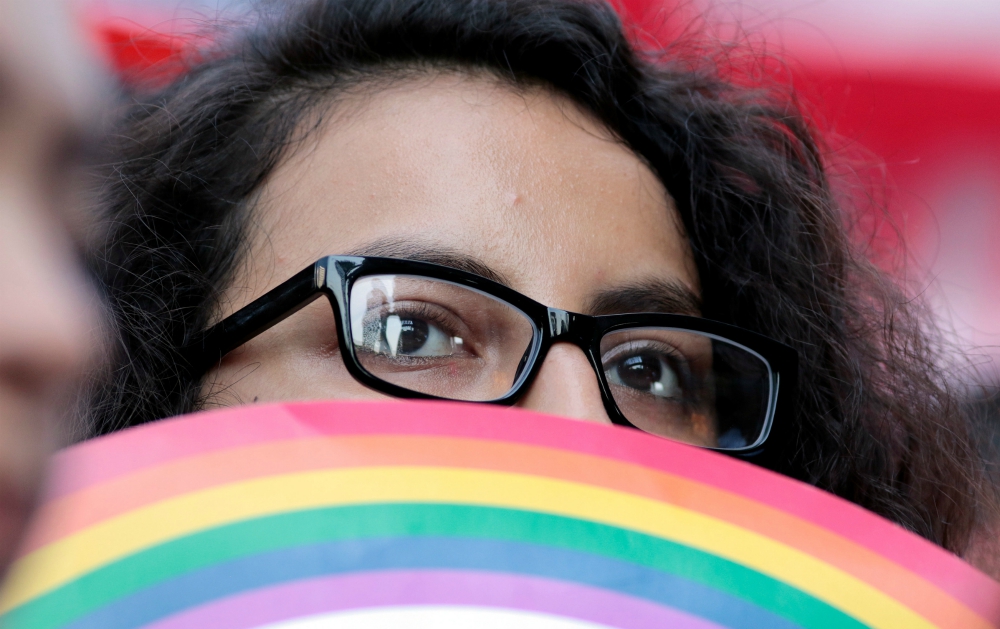 Dafne Jacobs, a Deferred Action for Childhood Arrivals recipient stands with supporters during a rally outside the Federal Building in Los Angeles Sept. 1. (CNS / Reuters / Kyle Grillot)
"Today the hope that our national policies will retain any shred of humanity in their treatment of undocumented immigrants has been extinguished," McElroy said in a written statement. "Tonight across this great land, untold families will be weeping at such harshness. Our Lord, who was both refugee and immigrant during his journey on this earth, will weep with them. And the Church will stand in steadfast solidarity and action with them, no matter what is coming."
By passing the buck to Congress, Trump is like Pilate trying to wash his hands of responsibility, said Franciscan Action Network Executive Director Patrick Carolan.
"President Trump, a professed Christian, betrays Christianity's foundational values of hospitality and the common good as we are taught to welcome the stranger," Carolan said in a statement. "We are determined to keep moving forward, even without Presidential leadership and we turn to our Congressional leadership to work for the common good by passing legislation which allows for a smooth pathway to citizenship, such as the DREAM Act of 2017."
Obama, who does not normally comment on political issues since leaving office, said the question is one of basic decency and who we are as Americans.
"Whatever concerns or complaints Americans may have about immigration in general, we shouldn't threaten the future of this group of young people who are here through no fault of their own, who pose no threat, who are not taking away anything from the rest of us," he said in a statement on Facebook. "They are that pitcher on our kid's softball team, that first responder who helps out his community after a disaster, that cadet in ROTC who wants nothing more than to wear the uniform of the country that gave him a chance. Kicking them out won't lower the unemployment rate, or lighten anyone's taxes, or raise anybody's wages."
Rescinding DACA also brings to life a fear many DACA recipients have expressed: Once their status expires, the government will use the extensive information required by the application process to find and deport them.
Campbell said assertions that rescinding DACA will not result in more deportations are disingenuous, and that even if the government does not target Dreamers specifically, it may use their information to target their parents or other family members who may be undocumented.
"It is going to increase deportations, so stop pretending it doesn't," Campbell said. "The way this administration has been acting, yes, it will target Dreamers, or it will certainly be targeting their families."
The Adrian Dominican Sisters decried the move, pointing out that for most DACA recipients, the United States is the only country they've ever known.
"Our Sisters have worked side-by-side with young 'Dreamers' under the DACA program to help them remain in school, seek employment, and come out of the shadows as vibrant contributing members of our communities. We grieve for the pain and hardship this will cause them and their families," the order's General Council said in a written statement. "This ill-considered and disgraceful action runs counter to our national and economic interests as well as to basic American values of decency in how we treat others, especially the young."
[Dan Stockman is national correspondent for Global Sisters Report. Follow him on Twitter @DanStockman or on Facebook.]