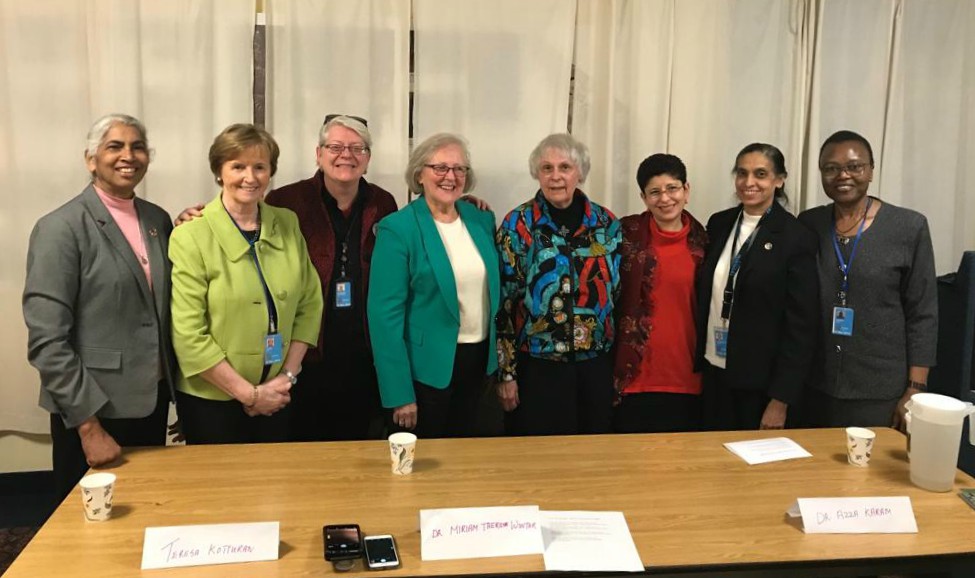 Speakers and co-sponsors of "Transformative Spirituality: Living in and Through the Spirit," an event held during the 63rd session of the U.N. Commission on the Status of Women (Margaret Capen)
New York, N.Y. — This year the 63rd United Nations conference on women (known as the Commission on the Status of Women) was unique, not because there were 9,000 women registered, and not because the theme was "Social protection systems, access to public services and sustainable infrastructure for gender equality and the empowerment of women and girls."
At the opening ceremony, the speakers — except for the secretary general — were all women: chair of the Commission on the Status of Women, president of the Economic and Social Council, president of the General Assembly, president of the Security Council, chair of the Convention on the Elimination of All Forms of Discrimination against Women, special rapporteur on violence against women, and executive director of UN Women. These powerful women made such remarkable speeches!
In his remarks, U.N. Secretary General António Guterres said, "Gender equality is all about power." He commented that, for too long, women have been oppressed under patriarchy and it is time to change. He stated, "I am a proud feminist," and said he is ready to support gender equality.
It is heartwarming to hear and see a secretary general who "walks the talk" by bringing gender parity into the senior posts at the U.N. But we have a long way to go to change the culture in the entire body of the U.N. system around the world.
Today, 740 million women make their living in the informal economy with limited access to the social protection, public services and infrastructure that could increase their productivity and income security. One in three women is likely to face violence in her lifetime, yet public services, urban planning and transport systems are rarely planned with women's safety and mobility in mind, reports UN Women.
These 10 days were busy with negotiations, panel discussions, ministerial roundtables, 300 side events hosted by the member states, and 400 parallel events by civil society at various venues. Most of the events were centered on the priority theme of social protection, social services and infrastructure.
Our Medical Mission Sisters organized an event titled "Transformative Spirituality: Living in and Through the Spirit," with nine other organizations co-sponsoring this event.
Welcoming the group, I explained our intent to emphasize the need for a new narrative, an emerging planetary reality that demands a shift in consciousness to a more inclusive way of being in the world as individuals and as a species. We require a radical reorientation of behavior and beliefs, only possible when we opt wholeheartedly to live in and through the Spirit. Sr. Teresa Kotturan, U.N. representative of the Sisters of Charity Federation, moderated the session.
One of the speakers was Miriam Therese Winter, a Medical Mission Sister who wears many hats: Hartford Seminary's professor of liturgy, worship, spirituality and feminist studies; director of its Women's Leadership Institute; singer of songs; composer of 15 recordings; and more.
She took us to a new consciousness, digging deep into the evolution of the universe and its 15 billion years of history, and showing how we are all connected.
She mesmerized the audience with her mystical poems and spoke of a spirituality in a quantum universe where chaos is not negative, but an essential element along with consciousness, connection, coincidence, creativity, celebration, relativity, uncertainty, complementarity, synchronicity, change, continuity, relationship, wholeness and transformation — all integral and exciting parts of the quantum universe.
Her book Paradoxology blends science and spirituality to see whole truths that "make all things new." She tried to help us realize that we people of faith cannot continue to practice our faith in isolation anymore. A quantum universe is telling us that we are all connected, that the God of one is the God of all, that diversity is a blessing, that the suffering of any of Earth's people or any part of the planet is a desecration to us all.
The new transformative spiritual direction is as energizing as it is surprising. It encourages us to look at life through a new lens that will help us see more than we have ever seen before.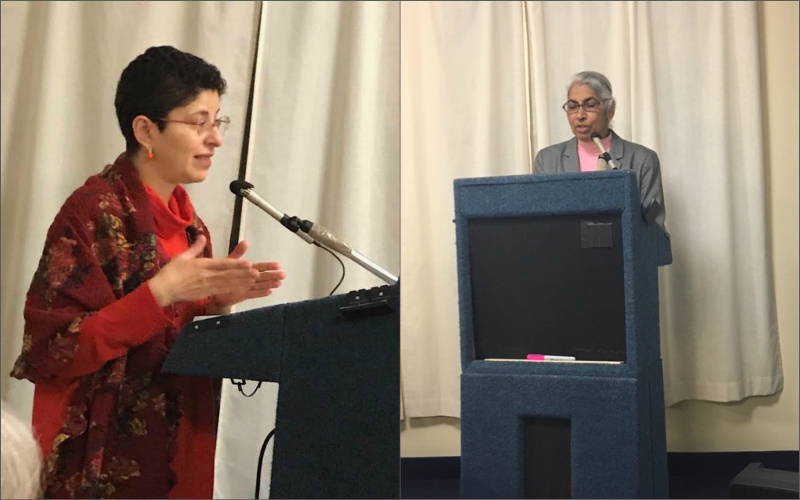 Azza Karam, left, and Charity Sr. Teresa Kotturan (Photos by Margaret Capen)
Another speaker is well-known at the U.N.: Azza Karam, senior adviser on social and cultural development at the United Nations Population Fund, coordinates outreach with faith-based partners, and chairs the U.N. interagency Task Force on Religion and Development.
Karam highlighted her work in helping the U.N. recognize faith-based organizations — never heard of 15-20 years ago. Today, the U.N. is counting on religious leaders and faith-based organizations to implement Agenda 2030, and several U.N. agencies such as UNICEF and the U.N. Environment Program are partnering with people of faith.
She cautioned us against the dangers of governments that fund faith-based organizations pushing for their own agendas and restricting activities promoting human rights. She appreciates faith-based organizations, and many see her as an advocate for religious freedom and a champion of interfaith movements within the U.N. and in the world.
Karam works hard to claim the place of faith-based organizations at the U.N., at the same time promoting a more humane approach that goes beyond religion or faith. For us, she is a great support and an inspiration.
A participant thanked us "for providing such an inspirational and enlightening conversation on the U.N. and transformative spirituality! I hope it is the first of many that the U.N. can offer."
Another wrote "Thank you for organizing that side event. People who were there were open to new ways of being. It was a great success."
Anyone who has been to the U.N. at the time of the Commission on the Status of Women knows that there are too many wonderful events to cover. It is natural to wonder: What is the effect of all these programs? What next?
Well, it is the 63rd session of the Commission on the Status of Women. Considering the oppressive power of patriarchy around the world, the gathering surely not only gives a platform for women to voice their concerns, but has politicized many of their everyday issues.
Governments are challenged time and again to behave differently, to create a world of equality, and to eliminate violence against women. The reality is that women and girls continue to suffer, but the good news is that a new consciousness is emerging that will gain power slowly but steadily.
Speaking to civil society at the briefing, François Delattre, France's ambassador to the United Nations and co-president of the Security Council, said that in his five years at the U.N., gender parity has gained front-and-center place at the Security Council and in other areas of the U.N. This surely is a boost to women's advocacy, though backlash to gender parity efforts continues by some countries.
That is why we women of faith are not just representatives of nongovernmental organizations, and our faith-based organizations need to be "people of Spirit" and continue to raise our voices and bring changes at the U.N. and around the world! May the divine continue to act through us to create a world where all can enjoy the peace promised by Jesus.
[Originally from India, Celine Paramundayil is the international representative for the Medical Mission Sisters' nongovernmental organization at the United Nations.]