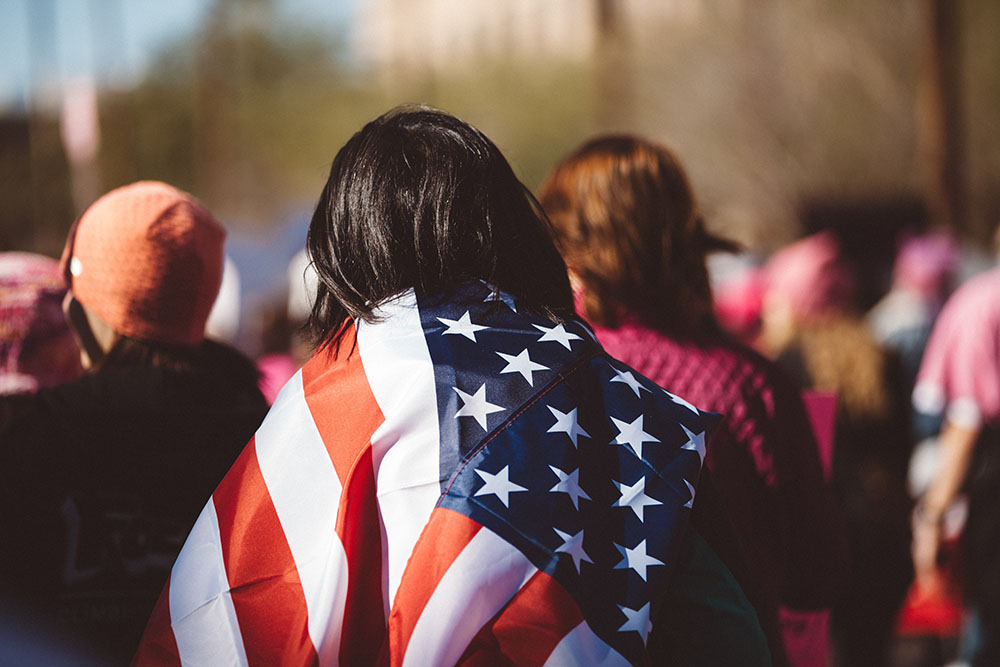 (Unsplash/Josh Johnson)
"I draw the line in the dust and toss the gauntlet before the feet of tyranny, and I say segregation now, segregation tomorrow, and segregation forever."  
The words of Governor George Wallace, the 45th governor of the state of Alabama, were spoken with such a strong Southern drawl that I have never forgotten them. 
I prefer: "What lies behind us and what lies before us are tiny matters compared to what lies within us." This quote is often misattributed to Henry David Thoreau, but The Walden Woods Project attributes it to Henry Stanley Haskins.
I like the quote because it keeps me in the present moment. 
But how realistic is it to live in the present moment? When people are being killed every day, can we let our defenses down? Can we avoid social media while the rest of the world mingles in cyberspace? Is it possible to live without knowing from moment to moment what is occurring on Capitol Hill? Can we call ourselves Christian and not know the daily needs of another?
Sometimes people of color have to live in the future, to plan for the months that are set aside to celebrate their past and their ethnicity: Black History Month and Cinco de Mayo are two of the most common. 
North Americans celebrate St. Patrick's Day — perhaps even those whose ancestors discriminated against the Irish coming to the United States! The special months set aside for different ethnicities provide a taste of multiculturalism and show how intercultural we should be in North America. 
African-Americans' achievements throughout U.S. history have been celebrated in the month of February since the early 20th century, but did you know that in November we celebrated Black Catholic History Month? 
In a blog post for U.S. Catholic, Caitlyn Schmid wrote about this honor for African men and women who pioneered the faith: 
Many forget that Christianity didn't start in Europe. Black Catholics have had a huge impact on the history and traditions of Christianity. The church has been celebrating Black Catholic History Month since 1990 when the National Black Catholic Clergy Caucus of the United States instigated it. November seemed appropriate because it holds special days for two prominent African Catholics: St. Augustine whose birthday is on November 13, and St. Martin de Porres whose feast day is celebrated on November 3. 
There has always been some debate about the fairness of having a designated month dedicated to one race. Some ask: "Is it really necessary to teach black history, as opposed to integrating black history into the mainstream of education throughout the year?" 
Others question: "How would black history be covered when the truths of slavery have been ignored, the cause of the Civil War was unjust, and equal rights (marched and protested for in the 1960s) have yet to become a solidified reality?"
What will the 28 days of Black History Month teach us in 2018? This February follows a year of bigotry, ignorance, murder, uncensored racist slurs, and nooses hanging from trees on college campuses and in high school bathroom stalls. The racial climate today makes one almost afraid to honor this time for educating and celebrating.
Franciscan Sr. Mary Antona Ebo died in November. I met her when I was much younger but didn't know what an honor it was to meet someone who had marched with Martin Luther King Jr. from Montgomery to Selma, Alabama.
A recent article in America magazine about Sister Antona gave me a chance to discuss some of the struggles for black people in the Catholic Church — especially black religious. I shared the article and personal reflections with friends, my community, and a few members of my parish. One parishioner, describing the way things were when he was in medical school in New Orleans, gave an even deeper insight into the way things were around the time that Sister Antona marched for civil rights.  
Richard began medical school at Tulane University in 1959, when racial integration was taking place in the city public schools, and demonstrations were taking place. Tulane was whites-only, but quietly admitted two black women to its graduate school. 
In his third year, most of Richard's education was from patients at Charity Hospital, a Depression-era building administered by the Sisters of Charity at the downtown campus. Richard described what it was like:  
"Charity Hospital ... was split in two sections. On one side all the ward numbers were preceded by the letter 'C', and on the other, the letter 'W' preceded the ward number. I'm sure I don't have to tell you what those letters stood for. We even had to be careful regarding the administration of blood. Blood from any black person could never be given to a white patient, though no restriction was applied the other way around. However since we treated about 3-4 black patients for every white one, we generally had a sufficient amount of donated blood from blacks. 
"Of course, Black patients weren't always so black. It was not unusual to encounter black patients with skin lighter than my own, often with blue or gray eye color as well. 
"Things at Charity Hospital did not change until Medicare was passed into law in 1965. When the law become effective in the mid-1960s, money began to pour into Charity Hospital. It also saw the elimination of segregation in the hospital. Ward numbers now were preceded with an 'E' for east and a 'W' for west. The hospital administration only had to get rid of the 'Cs' on one half of the hospital. Of course we were concerned as to what might happen, but it all went very smoothly. 
"Blood became blood, with no record of its origin. You see, integration of the hospital was forced upon Charity, as any institution that allowed the practice of racial segregation would not be eligible for Medicare payments." 
If segregation is to remain chained to the past, people of all ethnicities must rise above unfiltered comments that scar the soul and demeaning situations that strain the mind, and overcome the urge to respond to stereotypical slander. 
All of God's people must learn to live as one, using the grace of God to put on an armor of integrity. We must not forget the ones who made it possible for us to be where we are today. Then we will be able to go forth with strength, passion and dignity. We must come to realize that, "What lies behind us and what lies ahead of us are tiny matters compared to what lies within us."
[Mercy Sr. Larretta Rivera-Williams is originally from Winston-Salem, North Carolina, where she is coordinator of pastoral care at St. Leo the Great Catholic Church. Since entering the Sisters of Mercy in 1982, she has ministered as an elementary, secondary and divinity school educator. She has written and produced plays as well as directed and choreographed.]