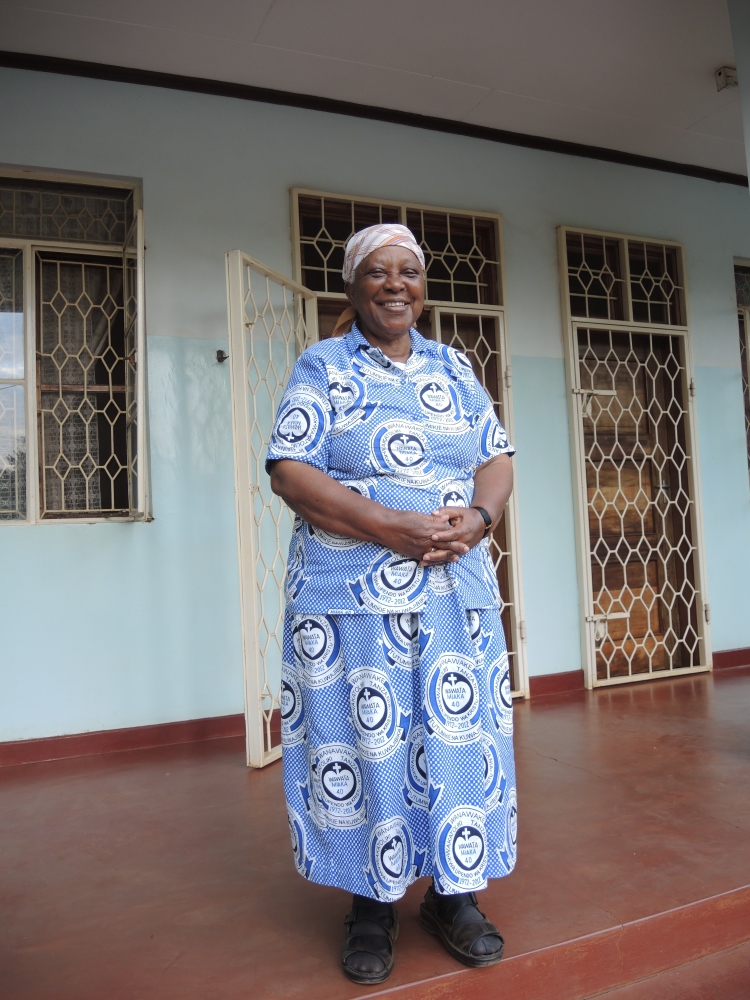 Sr. Imelda Gaurwa, 76, was the first Tanzanian Grail Sister. She served as country superior and is now retired and lives in Moshi. (GSR photo / Melanie Lidman
Tanzania — Sr. Imelda Gaurwa was the first Tanzanian sister to join the international order of the Grail Sisters. She was the country superior for many years but has now retired in Moshi, Tanzania, where the Grail Sisters run a nursery school and a vocational school.The Grail Sisters, which internationally is an ecumenical lay organization for women, is under the jurisdiction of the Tanzania Catholic Association of Sisters locally. Gaurwa talked with GSR about the importance of empowering women and how that message has adapted to new realities in Tanzania, where there are 80 Grail Sisters across the country.
GSR: Tell me a little bit about the Grail Sisters.
Gaurwa: Grail is a movement for empowering women. It's a spiritual movement. We believe the spiritual part goes together with the whole human being. In order to be active in society, you need to be educated. We also want to educate our members so they can give their best in the church and society. When we were founded, the focus was on educating women and girls. Then we realized that sisters should be educated first so they can educate others. In order to give women power, you must educate them. Our founder, Jesuit Fr. Jacques Van Ginneken [1877-1945] from Holland, he was very ahead of his time. He started a few congregations. He started Grail because he wanted to educate the masses. The thought was that if he could educate a few women, he could get to the rest of the world. If we want to convert the world to Christianity, you need to have influential women.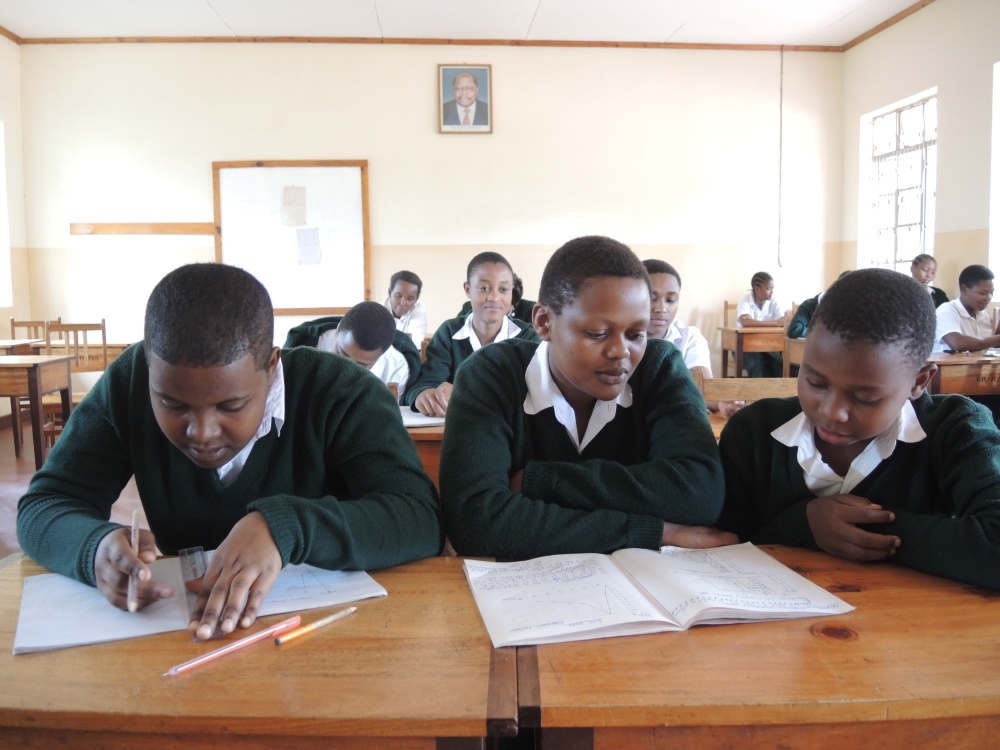 Students in the tailoring program study in a math and accounting class at the Emy Gordon Vocational School in Moshi, Tanzania. (GSR photo / Melanie Lidman)
How did you become the first Tanzanian Grail Sister?
I met a woman in the Lake Region [northern Tanzania near Lake Victoria, one of the poorest parts of the country]. I was interested to know what she was doing. I did my formation with Grail Sisters in Uganda. At the Uganda formation house for Grail sisters, I didn't feel any loneliness. I learned a lot of Ugandan culture. Also, my tribe is very close to Uganda, so it wasn't so different.
In Uganda, I learned about working with women at a village level. The first time I did this was in the area around the formation center. The Gospel says to be like salt. A little pinch of salt flavors the whole dish, like we should flavor the whole world, starting at the local level. Their emphasis on educated women was the key element for me during my two years in Uganda.
Why is it important to have local sisters, not just missionary sisters from other countries?
Sisters can speak about transformation and changing the world. They can talk about the way a girl child should behave, the way a boy child should behave, the way boys and girls should behave together, the relationship of men and women, and the relationship of the family and upbringing. But an African child should not be raised like a European child. We all come from different cultures. And you will be off-point as an African if you train your child as a European child. That child will not have a strong foundation for the future. I think the Grail philosophy has taken root in all the cultures in different ways, Christian and not Christian.
What have the Grail Sisters done in Moshi?
When we arrived in Moshi in 1997, we really noticed the lack of education for girls who are "in between," those who can't continue in school because they have no fees or because they didn't pass the exams. The African mentality is to have big families, and they often can't afford to educate all their children. We started on two classrooms, one for youth and one for kindergarten. Then we started expanding. Now we have three classrooms for children and two for youth. We are growing slowly due to space and funds to pay the teachers.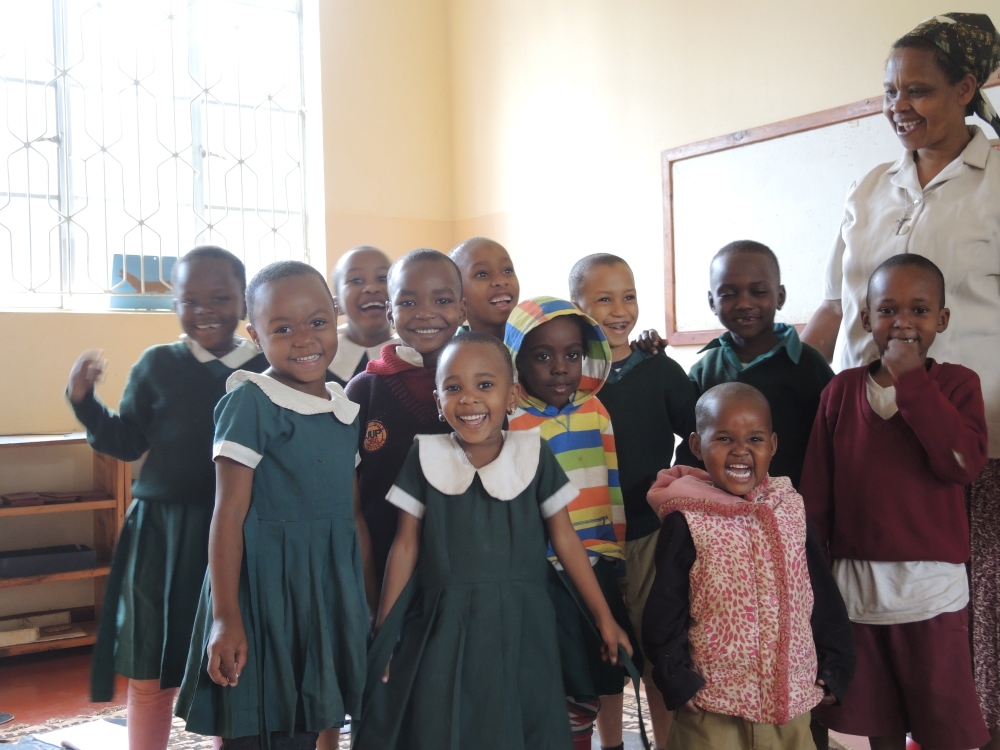 The nursery school provides children with a head start to their education by giving them a structured environment during their early formative years. (GSR photo / Melanie Lidman)
Why does the Grail philosophy think it is so important to have educated sisters?
Grail women who are doing their work must be trained properly so they can take on the role of transforming the society. Today, you even have Grail women having meetings at the U.N.! So the message is spread: It's everyone's responsibility to transform the society, and that means everything, spiritually and socially. The importance is making women realize they have a task: They must change society to make it a better society. Women have realized that if we don't share and speak out, no one will do it for us. Grail women have really played a role to make the world a better place for everybody to live.
[Melanie Lidman is Middle East and Africa correspondent for Global Sisters Report based in Israel.]