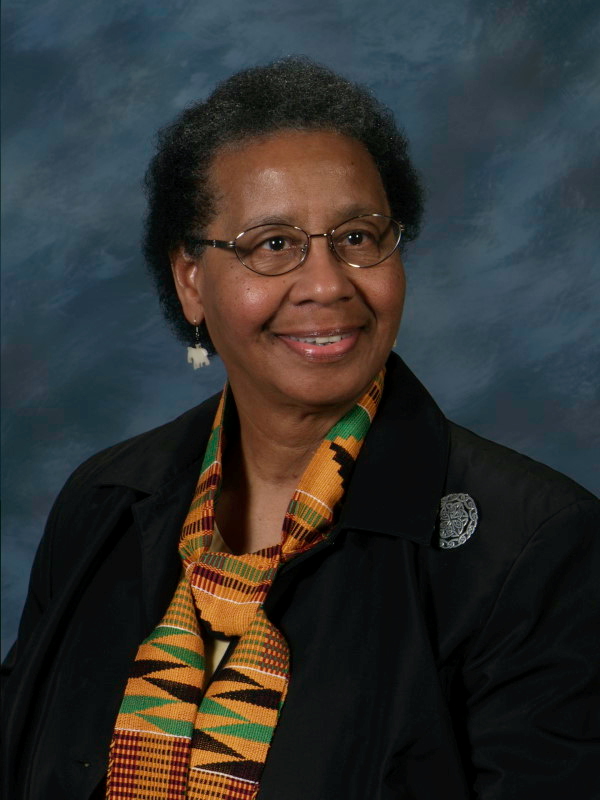 Sr. Barbara A. Moore, CSJ, was with the Kansas City delegation of Civil Rights supporters who marched in Selma, Ala., in 1965. (Photo courtesy of The Sisters of St. Joseph of Carondelet)
Kansas City, Missouri — Sr. Barbara Moore entered the St. Louis Province of the Sisters of St. Joseph of Carondelet in 1955. Having spent most of her religious life in Kansas City, Mo., she ministered at St. Joseph Hospital, Avila University and Samuel U. Rodgers Community Health Center. She spent three years at Heart of America United Way as project director of Kansas City Healthy Start, a comprehensive empowerment program to reduce infant mortality by serving pregnant women, infants and families in areas of highest incidence at 10 sites in Kansas and Missouri.
In January 2002 Moore returned to St. Louis as a member of the Congregational Leadership Team for a six-year term followed by a year's sabbatical. She has served on many state and national boards and has been active in several organizations in the diocesan and health care sectors. She is a sponsor member of Ascension, the largest Catholic Health System in the United States. Also she serves on several boards in St. Louis, including St. Joseph's Academy, St. Joseph Institute for the Deaf, and EXCEL, Inc., in Okolona, Miss. Moore volunteers with Nia Kuumba, a spirituality center for African-American and African women and Microfinancing Partners in Africa.
Moore holds advanced degrees in nursing and sociology and a Ph.D. in higher education administration. She received an honorary doctor of humane letters degree in May, 2013, from St. Ambrose University and delivered the spring commencement address.
What brought you to Selma, Alabama in March of 1965?
I was a nurse supervisor at St. Joseph hospital in Kansas City, Mo., when I received a call from our provincial superior, and she inquired if I would like to go to Selma with the delegation from Kansas City. I was aware of the demonstrations that were going on, and I thought about it and said, 'Well, yes,' not really knowing what I was getting in to.
There was a delegation of 22 of us from Kansas City. There were a couple of women from several of the religious congregations and several priests, and there was a Presbyterian minister and one of his parishioners who was a woman; we were the only two African Americans in the delegation.
What was arriving in Selma like at this time of community unrest?
I remember it was my first plane ride, and we flew to Montgomery, Ala. I recall there were vans that came to pick us up, and along the route from Montgomery to Selma we passed several Caucasians who were standing on their porches watching us, and I recall seeing several pick-up trucks with guns in the back. We went first to Good Samaritan Hospital where the Sisters of St. Joseph of Rochester served. That's where the women religious stayed, and several of the priests stayed with the Edmundite community that was just a couple of blocks down. They had palettes lined up in the hospital, and we just put our things down.
Our hosts did not participate in any demonstration because Archbishop Thomas Joseph Toolen did not allow them to – neither the priests nor sisters who served there – however, they were the ones who ministered to the people who had been beaten and brought in. They provided hospitality.
What did you observe of the planning going into the Civil Rights marches in Selma?
When we arrived we went over to Brown Chapel where all of the strategy took place, and I remember going up to the street. Just around the chapel there, the street was lined with people – little kids, adults, black, white – I don't know what religious denomination – and they were singing the spiritual, "Just like a tree standing by the water, we shall not be moved."
I was so moved by the whole experience of just being there and witnessing this and hearing the singing that I just stood there. I couldn't open my mouth. The next thing I remember is that we did go back to the hospital that evening, and we had a prayer service of those who were in our delegation in the chapel there and the priests – a couple who were going back to the rectory – they were chased, but fortunately they didn't get caught.
Later we went back to Brown Chapel where the lieutenants were gathered in the basement; they were the young people of the movement and the ministers who outlined the strategy for non-violence.
Can you describe one of the marches?
I did not march from Selma to Montgomery, but I did participate in a march to the courthouse in Selma. We were asked first if we wanted to march, and we consented. We were told no matter what happened we were to remain with our arms linked and were not to strike back or respond to people calling out names. One young man said that he would not be able to refrain from striking back, and the lieutenant told him he shouldn't march.
It was an awesome experience. We were there with our arms linked, and the state troopers were there in full arms gear and they seemed to be as nervous as we were. We marched, and in my group no one was arrested.
How did your experience in Selma affect your life afterwards?
I grew up hearing the stories from my parents and my aunts and uncles about segregation. They always talked about the importance of education because they felt this was the way they wanted us to realize our potential. They cherished the right to vote, and they taught us politics.
After my experience in Selma it heightened my resolve to speak up and speak out, and subsequently I continue to do that. I attended the first meeting of the Black Sisters Conference held in Pittsburgh in 1968, and I went with my community's support. It was a very affirming experience, and I've been involved in that since '68. I've continued to advocate for peace and justice, and whenever I see what I consider racism I call it to attention so that others can deal with it. I've had many opportunities for which I am very grateful.
[Colleen Dunne is an NCR Bertelsen intern in editorial and marketing and a primary contributor to Global Sisters Report.]